DBM GEOTECHNICS & CONSTRUCTIONS PVT. LTD.
















Executive Board Members :
D. B. Mahajan
Chairman & Managing Director
The founder Chairman and Managing Director of DBM Geotechnics & Constructions Private Limited, first generation entrepreneur at heart and engineering professional in his outlook has over three decades of experience in the infrastructure sector and specialised engineering services.
DBM, has prospered under his visionary leadership from a Geotechnical Survey Company to one of India's major player in Marine construction, Foundation engineering and other specialised engineering services company.
He holds Masters in Geotechnical Engineering and Bachelor of Civil Engineering qualifications from University of Mumbai. Mr. Mahajan is an active member and holds various positions in civil engineer's professional affiliations. He is a Life Fellow of Indian Geotechnical Society, Member of Executive Committee of IGS- Mumbai Chapter, Life Member of the Institution of Engineers India and Life Fellow of Institution of Bridge Engineers, Chartered Engineer (India).

Ashish Mahajan
Executive Director
Second generation entrepreneur, actively involved in the day to day business activity of DBM Geotechnics & Constructions Private Limited. He was instrumental in setting up of the Marine construction business vertical of DBM.
An MBA and Civil Engineer from University of Mumbai by qualification, Ashish Mahajan has risen to become Executive Director, and has infused the company's operations with his dynamism and professional approach. His keen business acumen has helped the company in exploring new avenues and venturing into new vistas.
Passionate and ambitious in his approach, he has inspired and led a strong team of professionals while maintaining multi-fold growth of the company year-on-year at all times.
Methodical by nature with a drive for excellence, Ashish's association with the DBM has added tremendous value to the company's portfolio.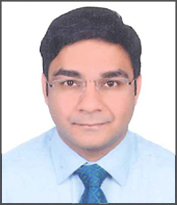 Sachin Mahajan
Executive Director
Soon after completing his MBA from NMiMS, Mumbai, Sachin Mahajan was at the helm of affairs and got involved in the Operations and Monitoring of the Construction Business of DBM. His ability in the field of project execution, planning and monitoring propelled him as an Executive Director at a young age.
He is an MBA and Civil Engineer by qualification, actively involved in the day to day planning and monitoring of projects spanning across India to ensure scheduled completion time and quality parameters to the customer's satisfaction.
He is a keen sports enthusiast during his spare time, he also loves to travel and explore exotic destinations.